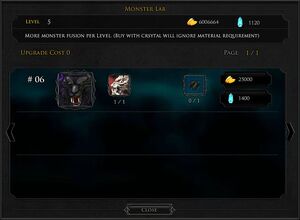 The Monster Lab is where you can use ingredients and gold to create new units for your army.
Unlike the Elemental Temples, the Monster Lab typically requires at least one other unit, and materials, which can be found by completing quests, earning achievements, or buying them in the Marketplace.
Units used as part of a recipe are lost, and need to be purchased again before they can be used.
Upgrading your Monster Lab to higher levels opens up new recipe possibilities. Unlike other buildings, there is no preview of the next level, recipes only becomes visible once the building has been upgraded.
By paying the Crystal Cost, the ingredient and gold cost is ignored.
Upgrade Levels
Level 1: Free. (It starts at level 1)
Level 2: 2,500 gold.
Level 3: 10,000 gold.
Level 4: 25,000 gold.
Level 5: 47,500 gold.
Level 6: 77,500 gold.
Level 7: 115,000 gold.
Level 8: 160,000 gold.
Level 9: 212,500 gold
Recipes
1
2
3
4

Level 1 - (Free)

Ingredients:

Ingredients:

100 crystals
200 crystals

Level 2 -     (2,500 gold)

Ingredients:

250 crystals
Level 3 -   (10,000 gold)

Ingredients:

Ingedients:

500 crystals
1000 crystals
Level 4 -   (25,000 gold)

Ingredients:

1100 crystals
Level 5 -   (47,500 gold)

Ingredients:

1200 crystals
Level 6 -   (77,500 gold)

Ingredients:

Ingredients:

Ingredients:

1050 crystals
600 crystals
400 crystals
Level 7 - (115,000 gold)

Ingredients:

Ingredients:

Ingredients:

1,500 crystals
1,500 crystals
1,500 crystals
Level 8 - (160,000 gold)

Ingredients:

Ingredients:

Ingredients:

Ingredients:

350 crystals
750 crystals
1,500 crystals
1,500 crystals
Level 9 - (212,500 gold)

Ingredients:

Ingredients:

Ingredients:

900 crystals
1100 crystals
1200 crystals

Level 10 - (262,000 gold)

Ingredients:

Ingredients:

Ingredients:

Ingredients:

5000 crystals
1250 crystals
1100 crystals
1600 crystals
Level: 1
Ingredients:
Crystal Cost: 100
Level: 1
Ingredients:
Crystal Cost: 200
Level: 2
Ingredients:
Crystal Cost: 250
Level: 3
Ingredients:
Crystal Cost: 500
Level: 3
Ingedients:
Crystal Cost: 1,000
Level: 4
Ingredients:
Crystal Cost: 1100
Level: 5
Ingredients:
Crystal Cost: 1,200
Level: 6
Ingredients:
80,000 Gold
Crystal Cost: 1,050
Level: 6
Ingredients:
Crystal Cost: 600
Level: 6
Ingredients:
Crystal Cost: 400
Level: 7
Ingredients:
Crystal Cost: 1,500
Level: 7
Ingredients:
Crystal Cost: 1,500
Level: 7
Ingredients:
Crystal Cost: 1,500
Level: 8
Ingredients:
Crystal Cost: 350
Level: 8
Ingredients:
Crystal Cost: 750
Level: 8
Ingredients:
Crystal Cost: 1,500
Level: 8
Ingredients:
Crystal Cost: 1,500
Level: 9
Ingredients:
Crystal Cost: 900
Level: 9
Ingredients:
Crystal Cost: 1,100
Level: 9
Ingredients:
Crystal Cost: 1,200
Level: 10
Ingredients:
Crystal Cost: 5,000
Level: 10
Crystal Cost: 1,250
Level: 10
Crystal Cost: 1,100
Level: 10
Crystal Cost: 1600